Read Time:
1 Minute, 24 Second
Farahnaz Forotan was three when the Taliban had arrived in Kabul. It was 1996. "I have this memory of a snowy day, I was sitting on my mother's lap, in a minibus, and she was crying. I didn't understand why she was crying," Forotan says. It was the day her family became refugees.
"It was the civil war, and we had to leave our home and country to live in Iran – alive, but living in pain and facing discrimination," she says.
Forotan, a journalist, is travelling the country for her social media campaign, asking women what rights they won't stand to see negotiated. Video clips are uploaded online and shared using the #MyRedLine hashtag. The testimonies are being used to lobby Afghan leaders, foreign diplomats and civil society groups.
"Today, the US and the world are surrendering us to the group that still kills us every day … in our streets, in our schools and even in our homes. We have been numbed into silence, by war, violence and pain, for far too long. But now we want to shout," says Forotan.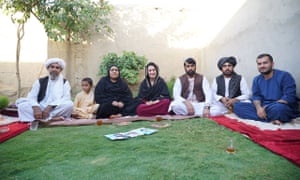 Talks between the Taliban and the Afghan government could start in Qatar this week, after the grand assembly, under pressure from the US, agreed on Sunday to release 400 militant prisoners, a Taliban condition for joining the negotiations.
Many women fear that freedoms gained in the 20 years since the fall of the Taliban will be sacrificed in the talks. Just five women are included in the 21-member negotiating team.
Read full story on The Guardian