Five-year-old Sayeed Rehman does not know what resilience means, a word used several times over the last few days to describe him. The young Afghan is just happy that he can dance again with his new prosthetic leg, one of many that he has worn during his short life.
"I like to dance, and I am very happy with my new leg. Do you want to see me dance?" he offers, while talking to The National at Kabul prosthetic clinic on Tuesday.
A video of a cheerful Sayeed Rehman dancing at the International Committee of the Red Cross orthopedic centre went viral after it was published on Monday.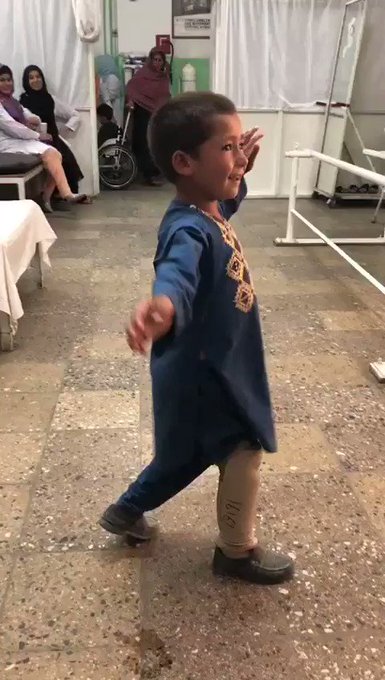 Ahmad received artificial limb in @ICRC_af Orthopedic center, he shows his emotion with dance after getting limbs. He come from Logar and lost his leg in a landmine. This is how his life changed and made him smile.41.3K11:27 AM – May 6, 201913.5K people are talking about thisTwitter Ads info and privacy
Despite Sayeed Rehman's happy demeanour, the youngster has had to overcome a violent past. When he was eight-months-old, Sayeed Rehman was caught in crossfire between government and insurgent forces in his home province of Logar, 60 kilometres outside the Afghan capital.
"We were caught between an ongoing battle between the Afghan forces and the Taliban. Rehman and sister got shot at. While my daughter suffered bullet wounds to her kidney and legs, Rehman's right leg was badly injured," Sayeed Rehman's mother Raesa told The National. Raesa, who like most Afghans goes only by one name, also lost her brother and nephew in that same attack.
"We rushed the injured to the Emergency clinic at the provincial centre; Rehman's injuries were so severe he had to be hospitalised for a month-and-a-half," she recalled.
Soon after his leg was amputated.
Read full story on The National UAE